Geonex casing system CSW
Casing System Wings up to Ø 1220 casing dimensions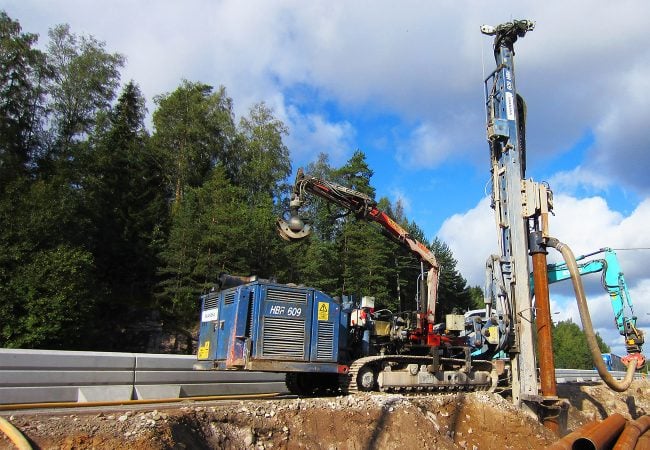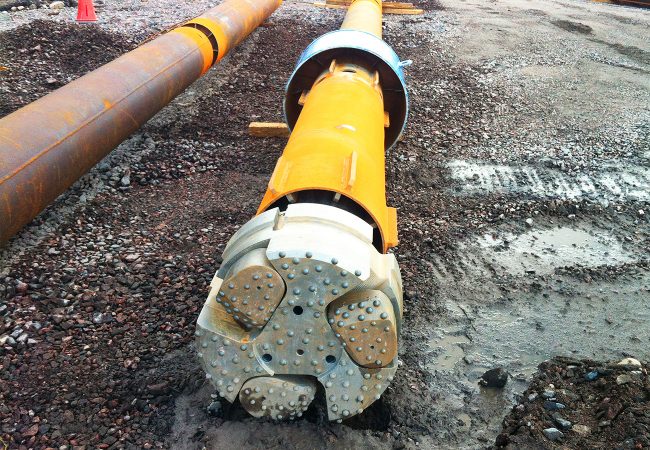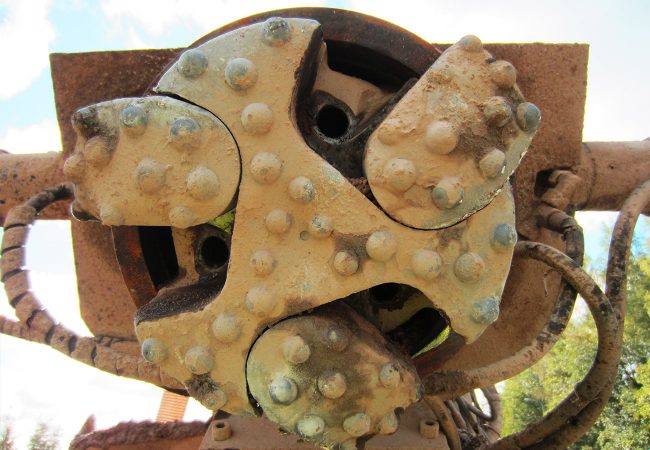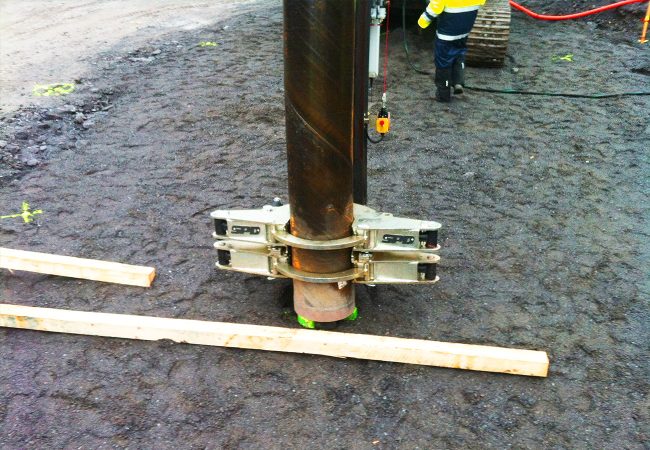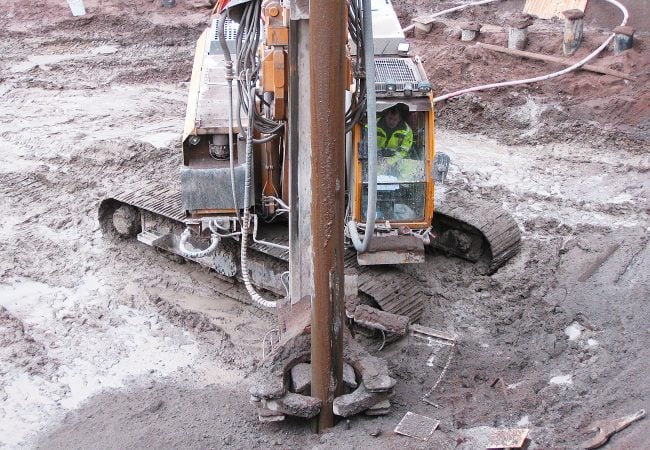 When drilling in soft and loose ground, the soil and clay are caved in. This creates difficulties in withdrawing the DTH drilling equipment and lowers the drilling speed. To overcome this problem, Geonex CSW enables drilling and lowering the casing simultaneously, preventing the soil from collapsing into the hole. The system is designed to drill the hole diameters slightly larger than the casing diameter. CSW consists of a pilot bit, segments and locking system.
Download datasheet
Applications for Geonex casing system CSW
Soft and loose ground

The CSW casing system makes foundation, piling and anchoring on soft and loose ground more durable and easy.

Special drilling

Special drilling applications include ground stabilization, grouting holes and water wells.

Straight hole drilling

The CSW's segments expand and retract concentrically so a straighter hole can be drilled.
Technical information
Geonex casing system CSW
| | Pilot bit outer dia. mm (in) | Expanded mode outer dia. mm (in) | Applicable casing outer dia. mm (in) | Casing wall max. | Segments (pieces) |
| --- | --- | --- | --- | --- | --- |
| 193,7mm casing CSW194/6,3t | 178 (7,01) | 212 (8,35) | 193,7 (7,625) | 6,3 (0,25) | 2 |
| 219,1mm casing | | | | | |
| CSW219/6,3t | 204 (8,03) | 237 (9,33) | 219,1 (8,625) | 6,3 (0,25) | 2 |
| CSW219/10,0t | 196 (7,72) | 237 (9,33) | 219,1 (8,625) | 10,0 (0,39) | 2 |
| CSW219/12,7t | 191 (7,52) | 237 (9,33) | 219,1 (8,625) | 12,7 (0,50) | 2 |
| CSW219/12,7t/XL | 191 (7,52) | 274 (10,79) | 219,1 (8,625) | 12,7 (0,50) | 2 |
| 244,5mm casing | | | | | |
| CSW245/6,3t | 229 (9,02) | 266 (10,47) | 244,5 (9,625) | 6,3 (0,25) | 2 |
| CSW245/10,0t | 222 (8,74) | 266 (10,47) | 244,5 (9,625) | 10,0 (0,39) | 2 |
| CSW245/12,7t | 216 (8,50) | 266 (10,47) | 244,5 (9,625) | 12,7 (0,50) | 2 |
| 273,0mm casing | | | | | |
| CSW273/8,0t | 255 (10,04) | 299 (11,77) | 273,0 (10,75) | 8,0 (0,31) | 2 |
| CSW273/10,0t | 250 (9,84) | 299 (11,77) | 273,0 (10,75) | 10,0 (0,39) | 2 |
| CSW273/12,7t | 245 (9,65) | 293 (11,77) | 273,0 (10,75) | 12,7 (0,50) | 2 |
| CSW273/12,7t/XL | 245 (9,65) | 328 (12,91) | 273,0 (10,75) | 12,7 (0,50) | 2 |
| CSW273/16,0t | 238 (9,37) | 293 (11,77) | 273,0 (10,75) | 16,0 (0,63) | 2 |
| 323,9mm casing | | | | | |
| CSW324/10,0t | 300 (11,91) | 345 (13,58) | 323,9 (12,75) | 10,0 (0,39) | 3 |
| CSW324/12,7t | 295 (11,61) | 345 (13,58) | 323,9 (12,75) | 12,7 (0,50) | 3 |
| CSW324/12,7t/XL | 295 (11,61) | 378 (14,88) | 323,9 (12,75) | 12,7 (0,50) | 3 |
| CSW324/16,0t | 289 (11,38) | 345 (13,58) | 323,9 (12,75) | 16,0 (0,63) | 3 |
| 406,6mm casing | | | | | |
| CSW406/12,7t | 378 (14,88) | 432 (17,00) | 406,4 (16,0) | 12,7 (0,50) | 3 |
| CSW406/12,7t/XL | 378 (14,88) | 461 (18,18) | 406,4 (16,0) | 12,7 (0,50) | 3 |
| CSW406/16,0t | 371 (14,61) | 432 (17,00) | 406,4 (16,0) | 16,0 (0,63) | 3 |
| 457,2mm casing | | | | | |
| CSW457/12,7t | 434 (17,09) | 482 (18,98) | 457,2 (18,0) | 10,0 (0,39) | 3 |
| CSW457/12,7t/XL | 429 (16,89) | 482 (18,98) | 457,2 (18,0) | 12,7 (0,50) | 3 |
| CSW457/16,0t | 422 (16,61) | 482 (18,98) | 457,2 (18,0) | 16,0 (0,63) | 3 |
| 508,0mm casing | | | | | |
| CSW508/10,0t | 485 (19,09) | 535 (21,06) | 508,0 (20,0) | 10,0 (0,39) | 3 |
| CSW508/12,7t | 479 (18,86) | 535 (21,06) | 508,0 (20,0) | 12,7 (0,50) | 3 |
| CSW508/16,0t | 473 (18,62) | 535 (21,06) | 508,0 (20,0) | 16,0 (0,63) | 3 |
| 588,8mm casing | | | | | |
| CSW559/10,0t | 536 (21,10) | 589 (23,19) | 558,8 (22,0) | 10,0 (0,39) | 3 |
| CSW559/12,7t | 530 (20,87) | 589 (23,19) | 558,8 (22,0) | 12,7 (0,50) | 3 |
| CSW559/16,0t | 523 (20,59) | 589 (23,19) | 558,8 (22,0) | 16,0 (0,63) | 3 |
| 609,6mm casing | | | | | |
| CSW610/12,7t | 581 (22,87) | 640 (25,20) | 609,6 (24,0) | 12,7 (0,50) | 3 |
| CSW610/16,0t | 574 (22,60) | 640 (25,20) | 609,6 (24,0) | 16,0 (0,63) | 3 |
| CSW610/16,0t/XL | 574 (22,60) | 664 (26,14) | 609,6 (24,0) | 16,0 (0,63) | 3 |
| 660,4mm casing | | | | | |
| CSW660/16,0t | 632 (24,88) | 693 (27,28) | 660,4 (26,0) | 12,7 (0,50) | 3 |
| CSW660/16,0t/XL | 625 (24,61) | 693 (27,28) | 660,4 (26,0) | 16,0 (0,63) | 3 |
| 711,2mm casing | | | | | |
| CSW711/16,0t | 675 (26,57) | 743 (29,25) | 711,2 (28,0) | 16,0 (0,63) | 3 |
| CSW711/16,0t/XL | 675 (26,57) | 766 (30,16) | 711,2 (28,0) | 16,0 (0,63) | 3 |
| 762,0mm casing CSW762/16,0t | 726 (28,58) | 28,58 (794) | 31,26 (30,0) | 16,0 (0,63) | 3 |
| 812,8mm casing | | | | | |
| CSW813/16,0t | 776 (30,55) | 845 (33,27) | 812,8 (32,0) | 16,0 (0,63) | 4 |
| CSW813/16,0t/XL | 776 (30,55) | 867 (34,13) | 812,8 (32,0) | 16,0 (0,63) | 4 |
| 914,4mm casing CSW914/16,0t | 876 (34,49) | 955 (37,60) | 914,4 (36,0) | 16,0 (0,63) | 4 |
| 1016,0mm casing | | | | | |
| CSW1016/18,0t | 972 (38,27) | 1056 (41,57) | 1016 (40,0) | 18,0 (0,71) | 4 |
| CSW1016/18,0t/XL | 972 (38,27) | 1071 (42,17) | 1016 (40,0) | 18,0 (0,71) | 4 |
| 1219,0mm casing | | | | | |
| CSW1016/18,0t | 1170 (46,06) | 1259 (49,57) | 1219 (48,0) | 20,0 (0,79) | 4 |
| CSW1016/18,0t/XL | 1170 (46,06) | 1274 (50,16) | 1219 (48,0) | 20,0 (0,79) | 4 |