Geonex HDD Hammer Solution
HDD Hammer Solution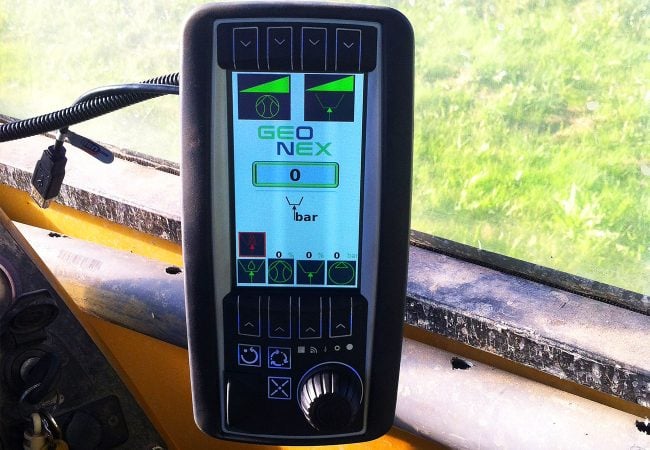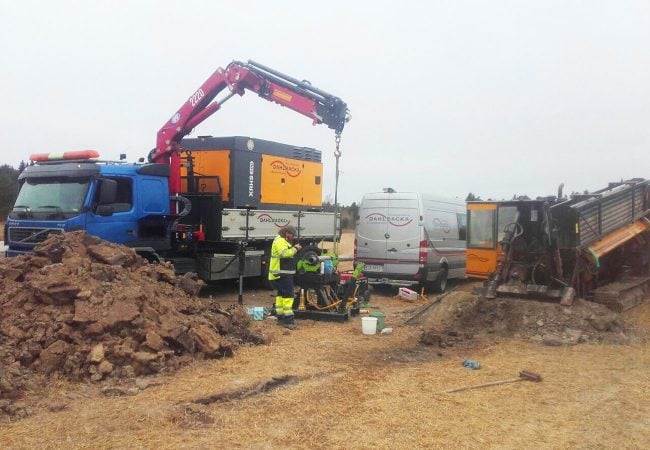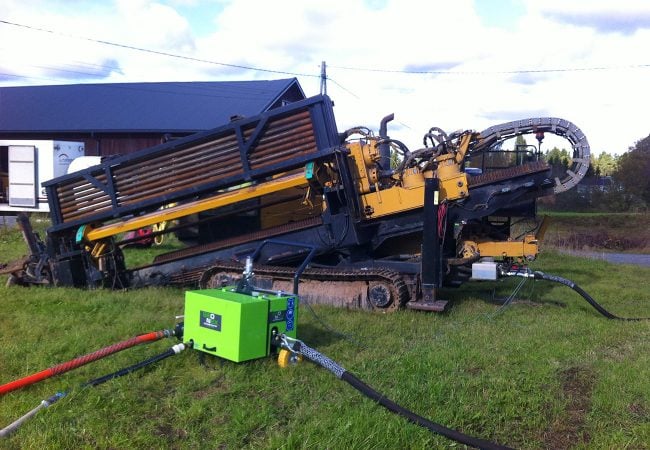 Geonex HDD Hammer solution makes your conventional Horizontal Direction Drilling rig able to perform Down-The-Hole hammer drilling. Geonex support pack enables all crucial functions for DTH hammer: air pressure, water and hammer oil in hammer sizes from 4" to 6", all controlled and monitored by easy-to-use control panel.
Download datasheet
Applications for Geonex HDD Hammer Solution
Directional drilling

Enables rock drilling with conventional horizontal directional drilling rig.

Other drilling machines capable of DTH drilling

The HDD Hammer solution is suitable for a variety of DTH drilling machines.

Easy monitoring

Control and monitor your DTH hammers by an easy-to-use control panel.
Accessories for Geonex HDD Hammer Solution
Technical information
Geonex HDD Hammer solution support pack, product number: 13100
| | |
| --- | --- |
| Hammer size | 4", 5" and 6" |
| Air valve | 2" with electric actuator |
| Water pump max. flow | 18 l/min |
| Water pump max. pressure | 50 bar |
| Water valve | 3/8" with electric actuator |
| Geonex control panel | A3 Vertical |
| Hammer oil pump max. | 1500 g / min |
| Hammer oil tank capacity | 20 l |
| Electric feed | 12-24 VDC / 16 A |
| Air feed max pressure | 28 bar |
| Air feed max flow | 30 m3/min |
| Lenght mm (ft in) | 700 (2' 4") |
| Width mm (ft in) | 900 (2' 11") |
| Height mm (ft in) | 950 (3' 2") |
| Weight (kg lb) | 250 (550) |
Drilling equipment for Geonex HDD Hammer solution
| | | | |
| --- | --- | --- | --- |
| Prod.name | Prod. number | Technical description | Weight kg (lb) |
| | | | |
| HDD Hammer | 15393 | Ø126mm Complete hammer with Bent Sub, Top Adaptor API reg. 3 1/2M, Air pressure 100-435PSI (7-30 bar) | 68kg (150lb) |
| Sonde Rod | 12480 | Ø126mm Sonde Rod API reg. 3 1/2"M-F complete | 90kg (198lb) |
| Sond Housing pipe (Spare Part) | 15392 | Complete Sond Housing Pipe | 5kg (11lb) |
| Drill Bit | 15391 | Ø160mm Mixed soil type: HDD angle face | 27kg (59lb) |
| Drill Bit | 15390 | Ø152mm Hard rock type: convex face | 25kg (55lb) |
| Bent Sub (Spare Part) | 12910 | Bent Sub, angle: 1.0 degrees, API reg. 3 1/2M | 25kg (55lb) |
| Bent Sub (Spare Part) | 15389 | Bent Sub, angle: 1.5 degrees, API reg. 3 1/2M | 25kg (55lb) |
| | | | |
| | | | |
| | | | |
| | | | |
| | | | |
| | | | |