Geonex HZR1200
Horizontal DTH-drilling rig up to Ø1220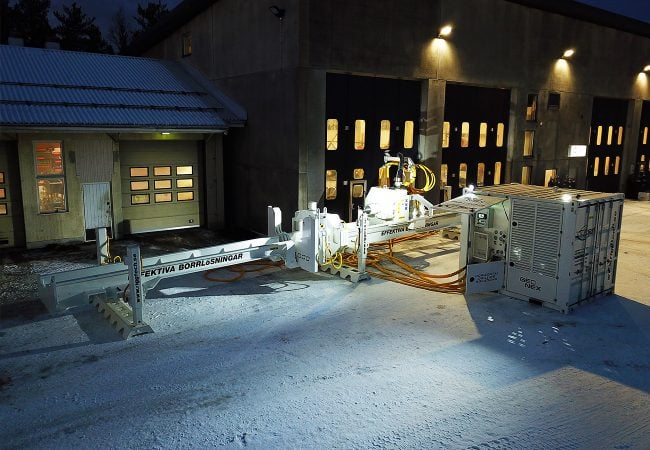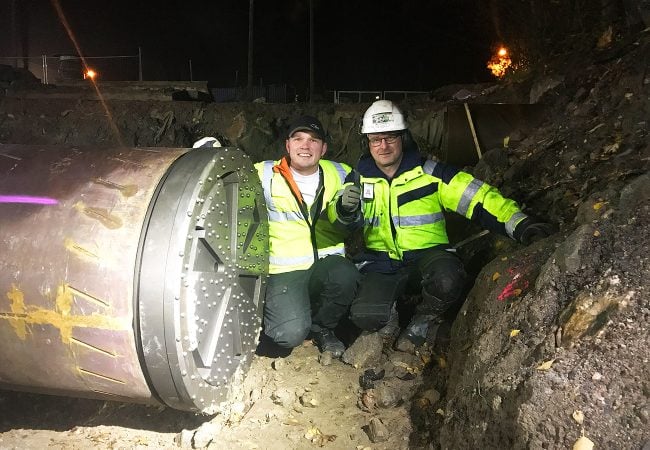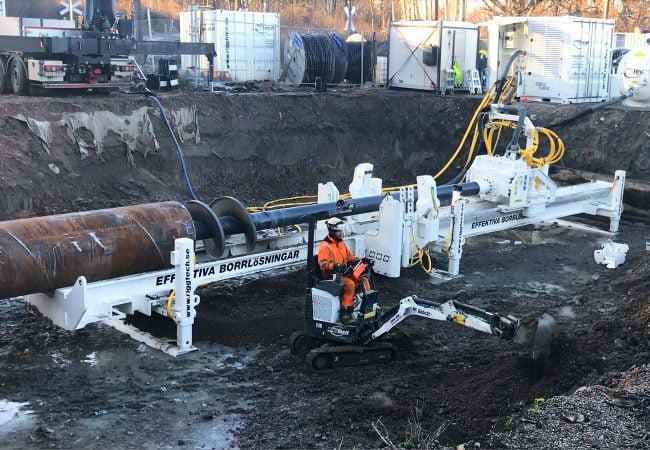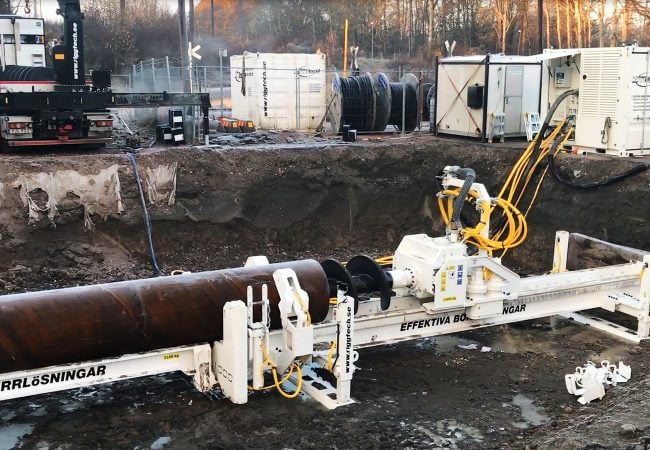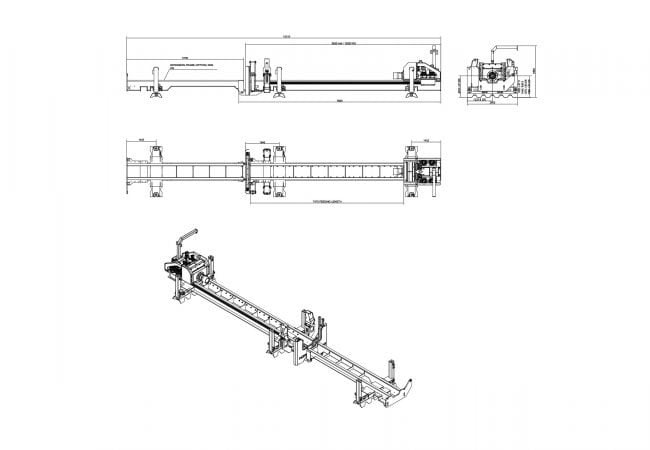 HZR1200 rig is the biggest and strongest hammer drilling rig on the market. HZR1200 drills up to Ø1220 steel casings, which is the biggest hammer drilled casing diameter. Even though HZR1200 is very strong machine, it is still versatile and very mobile contracting unit, which covers most of the infrastructural steel cased and rock drilling needs. This combination has a wide drilling diameter range capability from Ø406 to Ø1220, but it is optimal from Ø711 to Ø1220.
Download datasheet
Applications for Geonex HZR1200
Horizontal drilling with steel pipe

Steel pipe works as a casing for water, sewer, telecommunication, electric etc. flow pipes and cables.

Solid rock hole drilling

Accurate straight and steered rock holes, using tracking technology.

HDD assisting casings

Enables fast and safe start-up for demanding HDD drillings.
Accessories for Geonex HZR1200
GEONEX PP180 Diesel driven hydraulic power unit

PP180 is a compact and robust power pack. Harsh jobsite conditions set demands that have been taken care of in the engineering.

Tell me more

GEONEX Horizontal DTH-drilling equipment

Geonex provides specially for horizontal DTH-drilling developed drilling equipment: Overburden drilling systems, Horizontal drilling, DTH hammers, Augers and Tools.

Tell me more
Technical information
Geonex HZR1200
| | |
| --- | --- |
| Casing diameter mm (in) | < Ø 1220 (48) |
| Rock Button diameter mm (in) | < Ø 1220 (48) |
| DTH Hammer size | 12",14", 18",24",30" |
| Weight kg (lb) | 15500 (34170) |
| Length mm (ft in) | 9550 (31' 4") |
| Width mm (ft in) | 2450 (8' 1") |
| Height (Jack legs in) mm (ft in) | 2550 (8' 5") |
| Feed lenght mm (ft) | 7500 (24' 7") |
| Max feed force KN (lbf) | 950 (213560) |
| Max feed speed, m/min (ft/min) | 4 (13) |
| Max rotation torque, slow Nm (ftlb) | 120000(88500) |
| Max rotation torque, medium Nm (ftlb) | 75000 (55310) |
| Max rotation torque, fast Nm (ftlb) | 45000 (33190) |
| Max rotation speed, slow | 8 r/min |
| Max rotation speed, medium | 13 r/min |
| Max rotation speed, fast | 22 r/min |
| OPTION extension frame mm (ft) | 5700 (18' 9") |
| OPTION extension frame kg (lb) | 3500 (7700) |
| OPTION Water pump | |
PP180 Powerpack
| | |
| --- | --- |
| Diesel engine | Deutz TCD 6.1 L06 |
| Engine displacement liters (cid) | 6,1 / (370) |
| Engine power / Emission class | EU Stage 4 / Tier 4 Final |
| Max. engine speed | 2100 rpm |
| Pump 1 max. flow l/min (gpm) | 260 (68) |
| Pump 2 max. flow l/min (gpm) | 260 (68) |
| Hydraulic max. pressure bar (psi) | 350 (5070) |
| Electric system | 24 V |
| Hydraulic oil capacity l (gal) | 420 (110) |
| Fuel capacity l (gal) | 500 (132) |
| Length mm (ft in) | 2991 (9,81) |
| Width mm (ft in) | 2438 (7,99) |
| Height mm (ft in) | 2800 (9,18) |
| Weight kg (lb) | 5200 (11700) |
| 2 x 240 l/min & 14 x 40 l/min closed center LS directional valves | |
| Radio control | |
| OPTION | Generator HG18kVA |
| OPTION | Water pump |
| | |
DTH hammers for HZR1200
| Model | 12" DTH hammer | 14" DTH hammer | 18" DTH hammer | 24" DTH hammer |
| --- | --- | --- | --- | --- |
| Casing out diameter mm (in) | 406,4/508,0 (16,00"/20,00") | 508,0/610,0 (20,00"/24,00") | 610,0/711,0/813,0 (20,00"/28,00"/32,00") | 815,0/914,0/1016/1220 (32,00"/36,00"/40,00"/48,00") |
| Rock Button diameter mm (in) | 305,0-444,0 (12,00"/17,50") | 357,0-610,0 (14,00"/24,00") | 508,0-762,0 (20,00"-30,00") | 711,0-1016 (28,00"-40,00") |
| Shank type | IR112, SD 12, IR112 S | N125, N125S | N180, N180 S | N240, N240 S |
| Top Adaptor | API 6 5/8" Reg. Pin | API 6 5/8" Reg. Pin | API 8 5/8" Reg. Pin | BECO 10 |
| Air flow at 13,8 bar (m3/min) | 36,3 | 39,7 | 59,1 | 87,0 |
| Air flow at 17,2 bar (m3/min) | 49,0 | 52,1 | 73,7 | 99,0 |
| Air flow at 20,6 bar (m3/min) | 60,9 | 65,7 | 88,0 | 120,0 |