Geonex HZR400
Horizontal DTH-drilling rig up to Ø508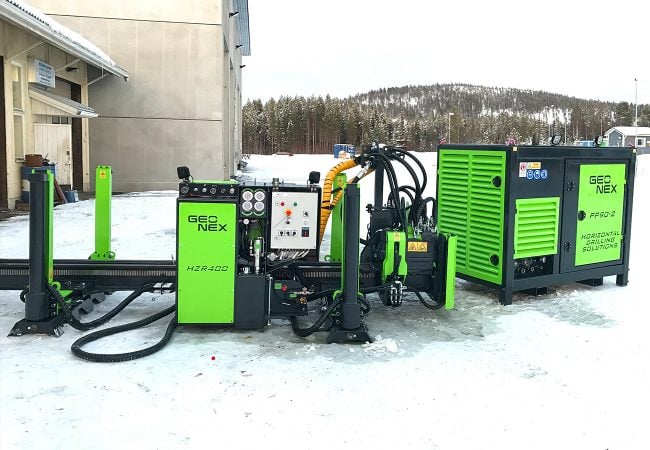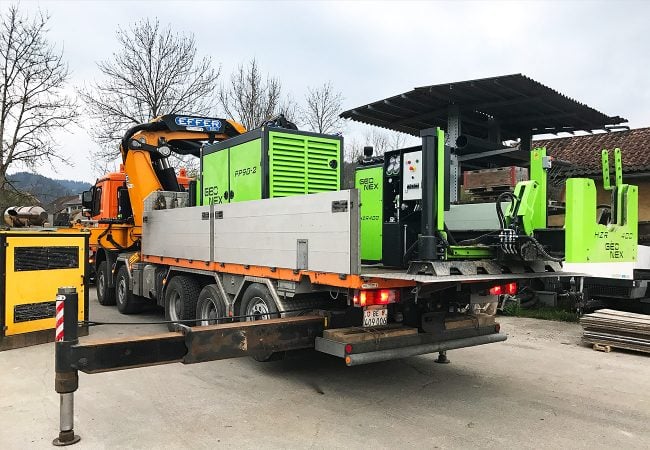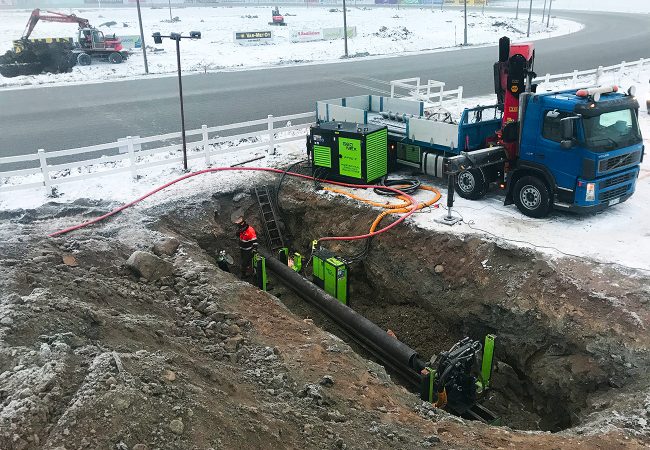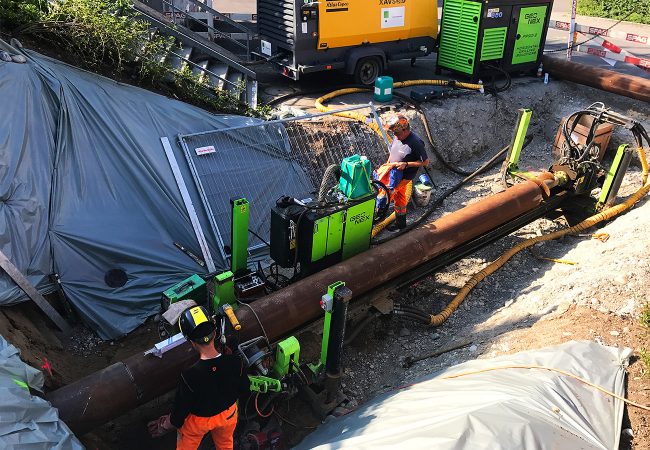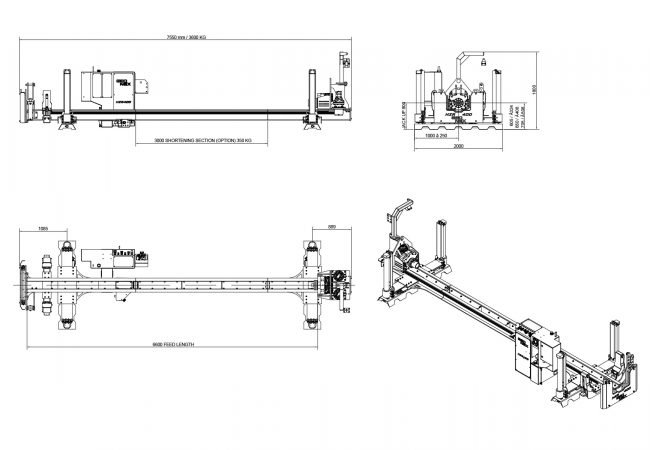 HZR400 is a compact and versatile contracting unit. It works in small to medium sized infrastructural steel cased and rock drilling needs, with pneumatic percussion down the hole hammer. HZR400 has a wide drilling diameter range capability from Ø139 to Ø508. Wide equipment range enables effective and accurate DTH-drilling. HZR400 Rig & PP90 Power Pack with Geonex drilling equipment is a ready solution for various infrastructural horizontal drilling needs.
Download datasheet
Applications for Geonex HZR400
Horizontal drilling with steel pipe

Steel pipe works as a casing for water, sewer, telecommunication, electric etc. flow pipes and cables.

Solid rock hole drilling

Accurate straight and steered rock holes, using tracking technology.

Versatile features

Anchoring and special applications in tight spaces and underground.
Accessories for Geonex HZR400
GEONEX PP90 Diesel driven hydraulic power unit

PP90 is a compact and robust power pack. Harsh jobsite conditions set demands that have been taken care of in the engineering.

Tell me more

GEONEX Horizontal DTH-drilling equipment

Geonex provides specially for horizontal DTH-drilling developed drilling equipment: Overburden drilling systems, Horizontal drilling, DTH hammers, Augers and Tools.

Tell me more
Technical information
Geonex HZR400
| | |
| --- | --- |
| Casing diameter mm (in) | 508 (20) |
| Rock Button diameter mm (in) | 508 (20) |
| DTH Hammer size | 4", 5", 6", 8", 10", 12" |
| Weight kg (lb) | 3600 (7950) |
| Length mm (ft in) | 7550 (24' 10") |
| Width mm (ft in) | 2000 (6' 7") |
| Height (Jack legs in) mm (ft in) | 1800 (5' 11") |
| Max feed force KN (lb) | 150 (33721) |
| Max feed speed m/min (ft/min) | 10 (33) |
| Max rotation torque, slow Nm (ftlb) | 15500 (11432) |
| Max rotation torque, fast Nm (ftlb) | 10000 (7376) |
| Max rotation speed, slow | 27 r/min |
| Max rotation speed, fast | 42 r/min |
| Radio controlled | |
| OPTION shortening frame section 3000 MM | |
| OPTION Water pump | |
PP90 Powerpack
| | |
| --- | --- |
| Diesel engine | Deutz TCD 3,6 |
| Engine displacement liners (cid) | 3,6 (220) |
| Engine power / Emission class | EU Stage 4 / Tier 4 Final |
| Max. engine speed | 2300 rpm |
| Pump 1 max. flow l/min (gpm) | 160 (42) |
| Pump 2 max. flow l/min (gpm) | 160 (42) |
| Hydraulic pump 1 & 2 max press. bar (psi) | 250 (3625) |
| Electric system | 24 V |
| Hydraulic oil capasity l (gal) | 180 (47,5) |
| Fuel capasity l (gal) | 165 (43) |
| Length mm (ft in) | 2170 (7' 2") |
| Width mm (ft in) | 1240 (4' 1") |
| Height mm (ft in) | 1900 (6' 3") |
| OPTION Generator HG12kVA | |
| Weight kg (lb) | 2400 (5290) |
| | |
DTH hammers for HZR400
| Model | 4" DTH hammer | 5" DTH hammer | 6" DTH hammer | 8" DTH hammer | 10" DTH hammer | 12" DTH hammer |
| --- | --- | --- | --- | --- | --- | --- |
| Casing out diameter mm (in) | 139,7 (5,5") | 168,3 (6,63") | 219,1 (8,63") | 273,0/323,9 (10,75"/12,75") | 323,9/406,4 (12,75"/16,00") | 406,4 (16,00") |
| Rock Button diameter mm (in) | 115,0-133,0 (4,5"-5,25") | 133,0-152,0 (5,25"-6,0") | 152,0-203,0 (6,0"-8,0") | 203,0-305,0 (6,0"-12,0") | 254,0-357,0 (10,00"/14,00") | 305,0-406,0 (12,00"-16,00") |
| Shank type | DHD 340 | DHD 350 | DHD 360 | DHD 380, DHD 380s | SD10, SD10 S | IR112, SD 12 |
| Top Adaptor type | API 2 3/8" Reg. Pin | API 3 ½" Reg. Pin | API 3 ½" Reg. Pin | API 4 ½" Reg. Pin | API 6 5/8" Reg. Pin | API 6 5/8" Reg. Pin |
| Air flow at 13,8 bar (m3/min) | 7,2 | 8,4 | 12,8 | 22,6 | 33,4 | 36,3 |
| Air flow at 17,2 bar (m3/min) | 10,5 | 12,9 | 17,1 | 29,1 | 42,1 | 49 |
| Air flow at 20,6 bar (m3/min) | 12,2 | 15,9 | 23,4 | 33,9 | 55,7 | 60,9 |